Knee pain is a common problem that can affect people of all ages. Whether you are an adolescent with growing issues, someone that has sustained a sporting injury or just starting to notice the signs of wear and tear, knee pain can affect the way you move and your quality of life dramatically.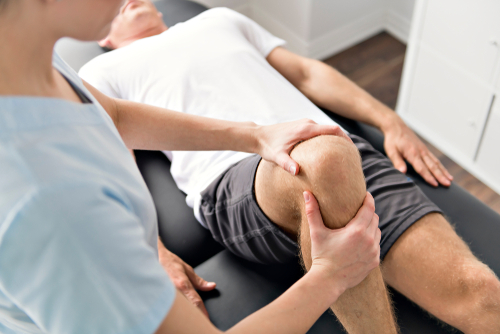 Knee pain can be caused by soft tissue injuries (such a ligament sprains and muscle strains), bone conditions (such as osteoarthritis or Osgood Schlatters Disease) and biomechanical dysfunction (such as patellofemoral syndrome).
Common knee conditions include:
Osteoarthritis
Osgood Schlatters Disease
Anterior cruciate ligament (ACL) injuries
Posterior cruciate ligament (PCL injuries
Medial and lateral collateral ligament sprains
Meniscus injuries
Pes anserine bursitis
Patellofemoral syndrome
Patella tendinopathy
Hamstring tendinopathy
Treatment can vary considerably depending on what the problem is and what your activity goal is for your knee. It is important to identify the problem and your end goal early so that a treatment program can be designed properly to ensure that you are working to reach your end goal from the beginning.
Because our knees carry us everywhere, load management is a key component to successful treatment. Knowing how and when to load your knee will ultimately determine the success of your treatment.
If you are struggling with knee pain it would be worth your while to book an appointment and plan your way back to strong and pain free knees.