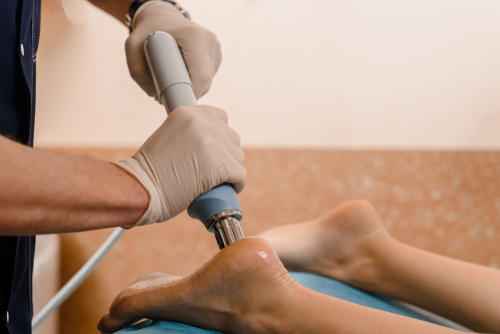 If you have been suffering from stubborn tendon pain that hasn't improved with traditional load management you might benefit from shockwave therapy.
What is Shock Wave Therapy?
Shock wave therapy is a non-invasive treatment that uses high amplitude acoustic 'shock' waves to increase the activation of specific cells within the treated tissue. These cells use this energy in a biological process that stimulates new blood vessels and collagen growth improving the healing response.
Research has shown the odds of achieving clinical success at 12 weeks following high-energy shock wave therapy was more than double that of placebo therapy.
Evidence in effective treatment for:
Plantar fasciitis
Achilles tendinopathies
Patellar tendinopathy
Calcific tendinopathy of the rotator cuff
Lateral epicondylitis (tennis elbow)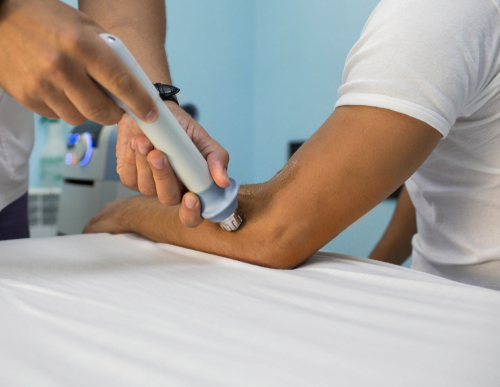 What does the treatment involve?
The target tissue will firstly be identified by your treating practitioner.
A sufficient amount of gel will then be applied to the skin over the area, which is necessary to transmit the acoustic waves or 'shocks' efficiently and smoothly into the target area.
The Shock Wave applicator will then be pressed against the area to be treated and deliver the shock therapy.
Treatment usually lasts 5-10 minutes.
What are the side effects of the treatment?
You may feel some slight discomfort during the treatment, though this is often dependent on the level of pain already being experienced in the area to be treated. Most clients can tolerate this discomfort, though the intensity of the treatment can be adjusted throughout the procedure to accommodate your tolerance and it is important that you communicate any concerns with your treating practitioner.
How many times is the treatment required?
The number of treatments may vary depending on indication and tissue response, though typically 3-5 treatment sessions 3-10 days apart is all that is required.
What are the side effects?
It is recommended after your treatment you refrain from physical activity, especially anything that would involve the treated area for 48 hours.